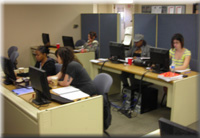 Office Administration
Office and administrative support workers perform the day to day activities of the office that encompass a variety of skills. These include preparing and filing documents, answering phones, working with Microsoft Office and related desktop applications, accounting, desktop publishing, customer service, and distributing information. Employment in these occupations is expected to grow by 7.2 percent, adding 1.7 million new jobs by 2016. Customer service representatives will add the most new jobs with an anticipated 545,000 new jobs created nationwide.

"Be Someone Now" Program
The Work One "Be Someone Now" program pays 100% of the tuition for qualifying 17 to 21 year old students. Students must apply through Work One of Elkhart County and meet all Workforce Development requirements. This program includes two parts. The first part combines the IBTA Customer Service Professional certification with specially crafted life skills training. The second part is the core vocational class. Students must complete the first part before being allowed into the second part. Students are not required to have a high school diploma or GED. The program is completed in one term. The complete program is 8-weeks long, 4-hours each day, Monday through Thursday.

Adult Education Program
The Adult program includes only the core vocational class and is completed in one 6-week term, 4-hours per day, Monday through Thursday. Students must have a high school diploma or GED or must take the Customer Service and Life Skills class as a prerequisite. Students who qualify for TAA or WIA may qualify for Work One funding for this class.

Office Administration Class
This core vocational class is designed to provide students with short-term intensive training along with adequate credentials to obtain employment in an office or high-level customer service environments or to greatly enhance their current occupational skills. The program trains students in multiple office skills. The class covers the Microsoft Office applications Word, Excel, PowerPoint, and Outlook, plus Microsoft Publisher and may include additional topics such as an Introduction to Personal Computers, Keyboarding, Windows, and Quickbooks. Students also complete a Business Communication to receive the fully accredited IBTA Business Communication certification. Students successfully completing the Business Communication certification are also awarded three Vincennes University credits. This class runs 4-hour per day, Monday to Thursday, for six weeks (96 contact hours). Class size limit: 12.

Customer Service & Life Skills Class*
This class combines Customer Service with various key life skills to provide a wholistic training approach to the broad range of skills needed in the modern workplace. The class consists of five sections. Section 1 is Leadership. The Leadership section concentrates on the areas of character, ethics, citizenship, and business leadership. Section 2 is English. Students must have a functional understanding of the mechanics of English grammar in order to read and write essential documents in the workplace. Section 3 is Math. Students must be able to use measuring equipment, count money, figure percentage, and perform other common mathematics to function in any business environment. Section 4 is Business. This section introduces students to a variety of essentials business from completing invoices to comprehending interest and insurance. Section 5 is Customer Service. The Customer Service portion addresses the specific skills needed in all types of customer service situations. Topics include personal, phone and electronic forms of communication, interpersonal skills, real-world employer expectations, handling difficult customers, and much more. Successful students receive the fully accredited IBTA Customer Service Professional certification. This class meets 4 hours each day, Monday through Thursday, for 2 weeks (32 contact hours).

*This class is a requirement for students in the Be Someone Now program funded through Work One or for any adult student who has not obtained a high school diploma or GED.